October 26, 2017
Press Release National ACSI Q2 2017
For more information contact:
Alice Fornell
[email protected]
Telephone: 734-913-0788
ACSI: Deteriorating Customer Satisfaction Indicates Troubled Economy
ANN ARBOR, Mich. (October 26, 2017) — According to the American Customer Satisfaction Index (ACSI®) the national level of customer satisfaction fell in the second quarter of 2017, retreating 0.4 percent to a score of 76.7 (on a 0-100 scale). This is the first drop in ACSI since the fourth quarter of 2015.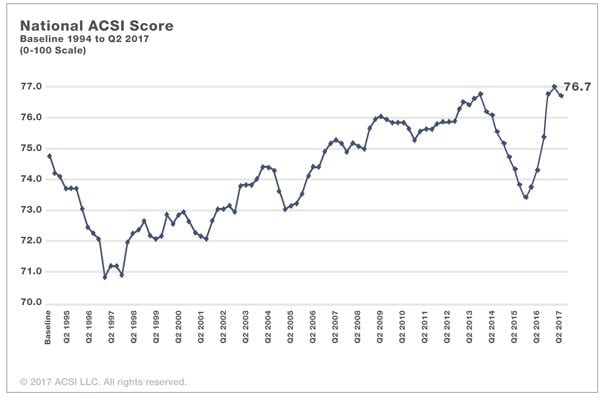 ACSI improved each quarter in 2016, and again during the first quarter of 2017, resulting in somewhat stronger consumer spending growth over the period. But deteriorating customer satisfaction, should the trend persist, will dampen spending – a troubling economic outlook.
Economic growth has been steady – but tepid – since the Great Recession ended eight years ago. There is no mystery about what is needed: greater consumer demand.
Stronger wage growth for households would certainly help create demand, as would higher levels of customer satisfaction. The latter increased sharply in 2015, but consumer spending has not grown anywhere near the same pace. Although customer satisfaction shifts the demand curve upwards, discretionary household income has to improve as well.
Three factors propel consumer spending growth: wages, inflation and customer satisfaction. None of these indicators are currently showing strong growth. At this point, all three need to move in concert for the economic outlook to improve.
This press release is also available in PDF format.