Household Appliances
2022
September 20, 2022
Press Release Household Appliance And Electronics Study 2021-2022
For more information contact:
Allie Carroll [email protected]
267-294-7735
Television Industry Debuts at the Top of the Index, While LG Scores 'Best in Class' Among Appliances, ACSI Data Show
ANN ARBOR, Mich., (September 20, 2022) – Customer satisfaction with personal computers – including desktops, laptops, and tablets – is stable at 79 (out of 100), according to the American Customer Satisfaction Index (ACSI®) Household Appliance and Electronics Study 2021-2022.
Satisfaction with desktop computers rebounds, up 3% to an ACSI score of 80. This improvement puts desktops in sole possession of first place. Laptops and tablets both score 79, with the former inching up 1% and the latter surging 4%.
Among the other manufacturing/durables industries, televisions debut with a high score of 80, while household appliances tick up 1% to tie with PCs at 79.
"Americans love their TVs, and while the industry has not been immune to supply chain issues, shoppers continue to look for better features and bigger screens," says Forrest Morgeson, Assistant Professor of Marketing at Michigan State University and Director of Research Emeritus at the ACSI. "Indeed, ACSI data show that the television industry receives its top mark for screen size, just ahead of image quality. Overall, televisions dial in at an ACSI score of 80 – the apex of the Index for customer satisfaction – with Samsung ranking number one among manufacturers."
Apple fends off Samsung in PC market, as Amazon becomes a legit contender for tablets
Apple (unchanged at an ACSI score of 82) still leads the personal computer industry, but competition is getting heated.
Samsung jumps into second place after improving 3% to 81. Five companies sit in third at 79, including Amazon, which skyrockets 7% year over year, along with Acer (unchanged), Asus (up 3%), Dell (up 1%), and Lenovo (up 1%).
HP falls below the industry average, slumping 3% to 78, while the group of smaller PC makers remains at the bottom despite increasing 4% to 77.
LG appliances steal the show
Customer satisfaction with major household appliances – including washers, dryers, dishwashers, refrigerators, ovens, and microwaves – inches up 1% to an ACSI score of 79.
LG surges into the lead, climbing 3% to 81. There's a logjam for second place, with the group of smaller appliance makers (unchanged) tying four manufacturers at 79: Electrolux (up 1%), Haier – which includes GE, Haier, and Hotpoint brands – (up 1%), Samsung (down 1%), and Whirlpool (up 3%).
Bosch remains at the bottom despite improving 1% to an ACSI score of 75.
In terms of appliance types, LG scores best in class for dryers (84), ovens (82), refrigerators (80), and dishwashers (79). Whirlpool is the preferred choice among microwave users with an ACSI score of 82, while Haier and Samsung share the highest customer satisfaction score for washers at 81.
Samsung televisions get strong ratings, as industry debuts atop ACSI
Customer satisfaction with televisions is sky high, as the industry debuts at the top of the Index – along with food manufacturing and full-service restaurants – with an ACSI score of 80.
Samsung dominates among manufacturers with a score of 83. LG and TCL are next at 80 apiece. The group of smaller TV makers, Hisense, and Sony sit in a three-way tie just below the industry average at 79. Vizio finishes last with an ACSI score of 77.
Microsoft's software satisfaction falls again
Customer satisfaction with software for desktops and laptops improves 1% to an ACSI score of 78 thanks, yet again, to smaller companies.
The group of smaller software makers pad their industry lead, increasing 3% to 79. Meanwhile, Microsoft falters yet again, slipping 4% to a score of 73.
The ACSI Household Appliance and Electronics Study 2021-2022 is based on interviews with 9,271 customers, chosen at random and contacted via email between July 2021 and June 2022 with the exception of televisions (collected April-July 2022). Follow the ACSI on LinkedIn and Twitter at @theACSI.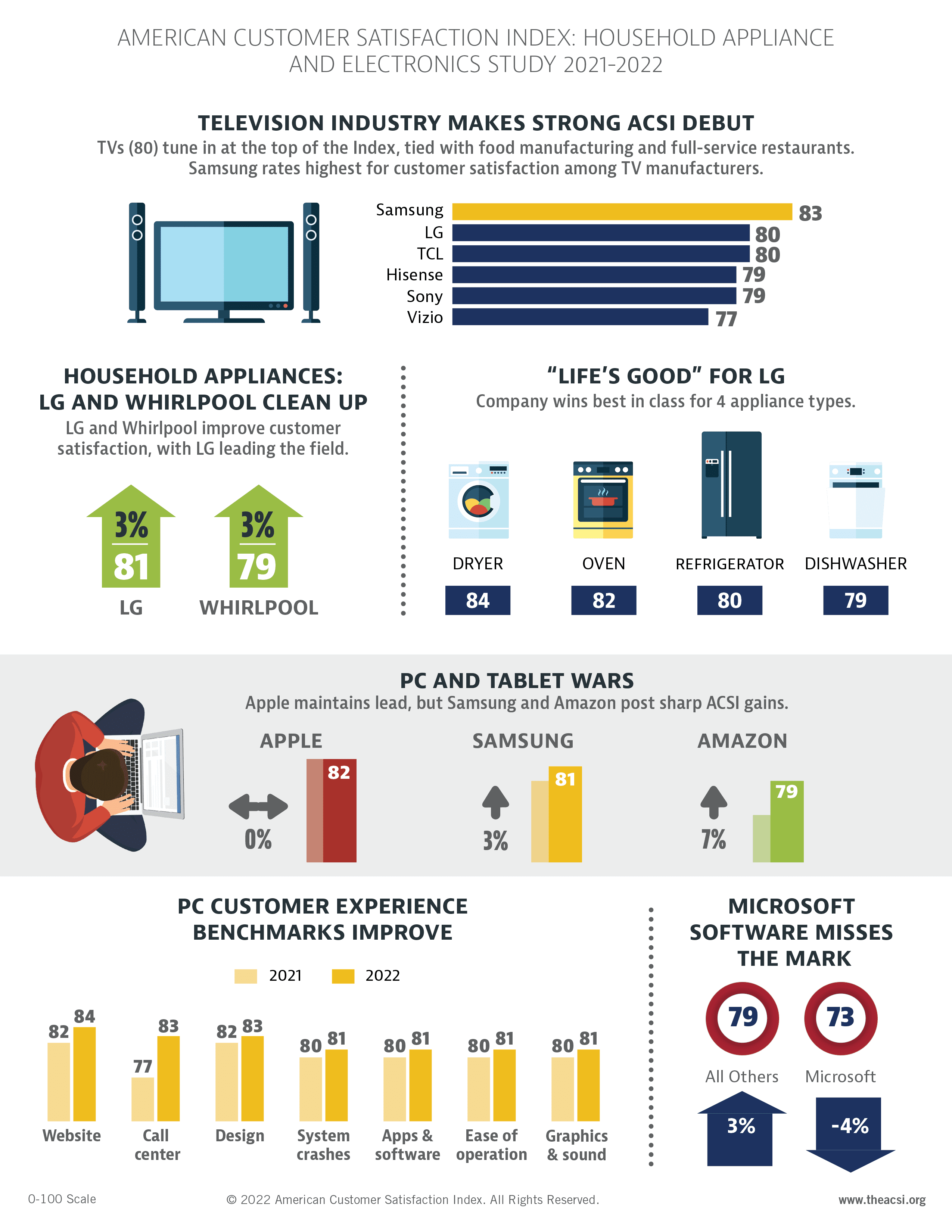 About the ACSI
The American Customer Satisfaction Index (ACSI®) has been a national economic indicator for 25 years. It measures and analyzes customer satisfaction with more than 400 companies in 47 industries and 10 economic sectors, including various services of federal and local government agencies. Reported on a scale of 0 to 100, scores are based on data from interviews with roughly 500,000 customers annually. For more information, visit www.theacsi.org.
ACSI and its logo are Registered Marks of American Customer Satisfaction Index LLC.