November 1, 2022
Press Release Insurance and Health Care Study 2021-2022
For more information contact:
Allie Carroll [email protected]
267-294-7735
Customer Satisfaction Stable Across Insurance Industries, With Positive Signs Coming Out of Hospitals, ACSI Data Show
ANN ARBOR, Mich., (November 1, 2022) – One word best describes customer satisfaction in the insurance segment: stable.
Member satisfaction with health insurance remains unchanged year over year with a score of 73 (out of 100), according to the American Customer Satisfaction Index (ACSI®) Insurance and Health Care Study 2021-2022. Property and casualty insurers and life insurers are steady as well, both with ACSI scores of 78.
Satisfaction with hospitals, on the other hand, is trending up.
"With visitor restrictions relaxing and more elective procedures going forward, hospitals are slowly coming out of a COVID-induced satisfaction slump," said Forrest Morgeson, Assistant Professor of Marketing at Michigan State University and Director of Research Emeritus at the ACSI. "Patients feel that the quality of care has improved relative to the past two years, especially inpatients, whose satisfaction is up 6% since last year. Nevertheless, satisfaction remains well below the levels reached before the pandemic, as patients are still adjusting to restrictions that remain and feeling some impacts of inflation on medical care."
Humana headlines health insurance industry
Humana regains first place after a slight hiccup last year, improving 4% to an ACSI score of 77. UnitedHealth moves into second, inching up 1% to 75.
CVS Health's Aetna rises 1% to 74, while Blue Cross Blue Shield and Kaiser Permanente, last year's leaders, both sink 3% to the industry average of 73. The group of smaller health insurers (down 1%) and Centene (unchanged) sit just below with scores of 72 apiece. Cigna finishes in last place despite improving 4% to 71.
State Farm secures top spot among property and casualty insurers
State Farm tops all property and casualty insurers after climbing 1% to an ACSI score of 80. While State Farm leads the industry at large, USAA – which offers insurance to military-affiliated individuals and families only – sets a high bar with its ACSI score of 84. Due to its limited availability, USAA is not included in the ACSI industry rankings.
American Family and Liberty Mutual tie for second after both improve 3% to 79. Meanwhile, three providers score 78: Allstate (up 1%), the group of smaller P&C insurers (unchanged), and Travelers (up 4%).
Geico slips 3% to 77, just ahead of Nationwide (down 1%) and Progressive (unchanged), both at 76. Farmers (unchanged) sits in last with an ACSI score of 75.
New York Life skyrockets to the top of the life insurance industry
New York Life leads all life insurers after surging 9% to an ACSI score of 83. The insurer rebounds from a satisfaction loss in 2020, which coincided with its acquisition of Cigna's group life and disability business. MetLife moves into second place, up 4% to 80.
AIG and Nationwide debut in the industry at 79 apiece. Fellow newcomer MassMutual premieres at 78, tied with the group of smaller life insurers (down 1%), Prudential (up 4%), and State Farm (down 1%).
Lincoln Financial is stable with a score of 77, tying Northwestern Mutual, which improves 3% year over year. In its first appearance in the Index, John Hancock scores 75, while Primerica is at the bottom despite climbing 3% to 74.
Patient satisfaction with hospitals improves, while nonhospital care stays pat
Patient satisfaction with hospitals rises 3% to an ACSI score of 71. Satisfaction with nonhospital care is unchanged, remaining at a record-low ACSI score of 73. ACSI data show that both the outpatient (77) and inpatient (74) experiences for hospitals have improved substantially year over year, although emergency room care continues to rate much lower (66).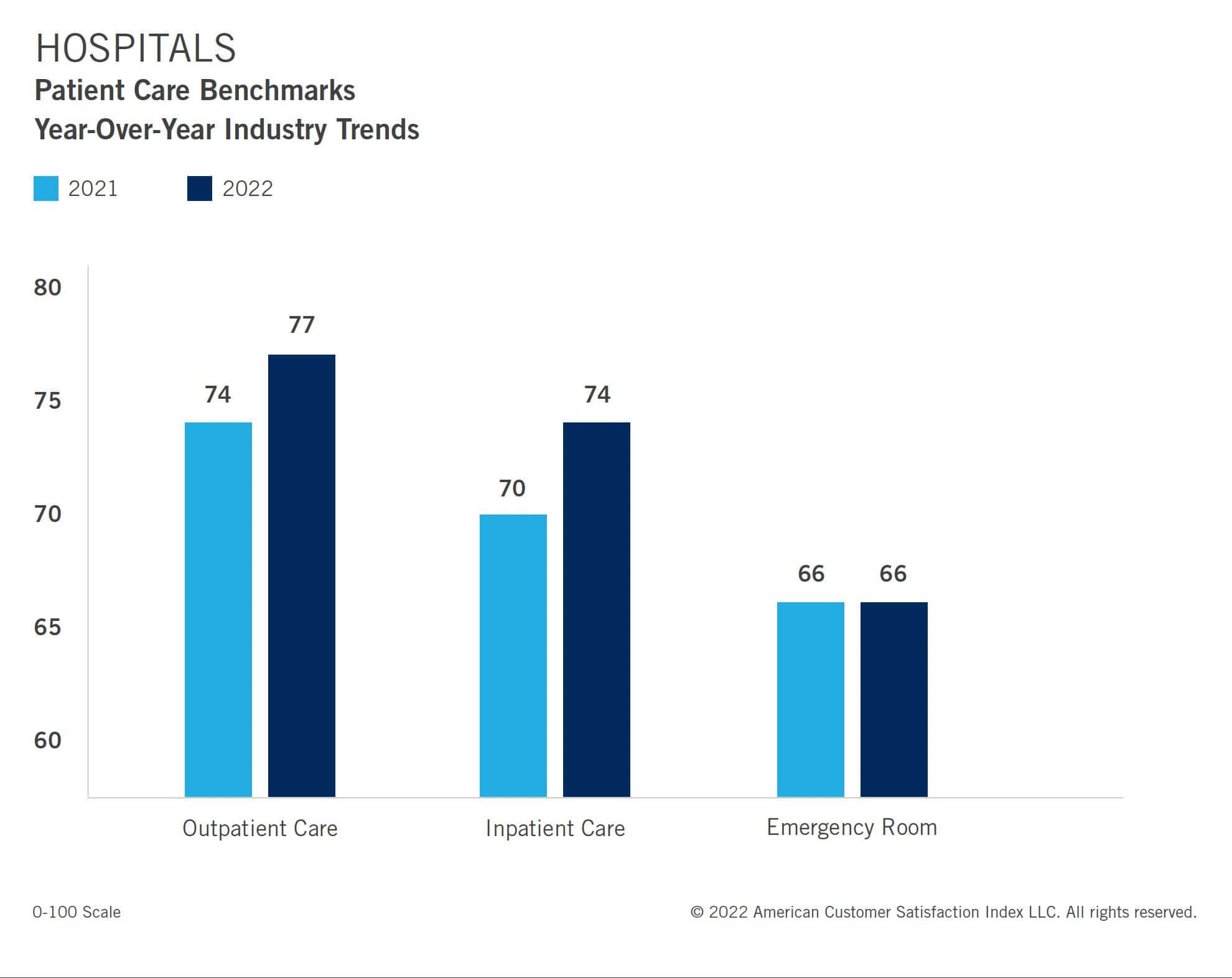 The ACSI Insurance and Health Care Study 2021-2022 is based on interviews with 12,841 customers, chosen at random and contacted via email between October 2021 and September 2022.
Follow the ACSI on LinkedIn and Twitter at @theACSI.
No advertising or other promotional use can be made of the data and information in this release without the express prior written consent of ACSI LLC.
About the ACSI
The American Customer Satisfaction Index (ACSI®) has been a national economic indicator for 25 years. It measures and analyzes customer satisfaction with more than 400 companies in 47 industries and 10 economic sectors, including various services of federal and local government agencies. Reported on a scale of 0 to 100, scores are based on data from interviews with roughly 500,000 customers annually. For more information, visit www.theacsi.org.
ACSI and its logo are Registered Marks of American Customer Satisfaction Index LLC.