Travel
2023
April 18, 2023
Press Release Travel Study 2022-2023
For more information contact:
Denise DiMeglio
[email protected]
908-295-3843
Customers Give Hotels '5 Stars' as Guest Satisfaction With the Industry Surges, ACSI Data Show
ANN ARBOR, Mich., (April 18, 2023) – Good news for the travel industry: Not only are folks giving in to wanderlust again, but they're enjoying all the accommodations along the way.
According to the American Customer Satisfaction Index (ACSI®) Travel Study 2022-2023, satisfaction across all four industries measured — airlines, hotels, car rentals, and online travel agencies — is up. The outlook is especially cozy for hotels.
"After two years of decline, a sweeping surge in guest satisfaction with hotels could signal that the industry is moving past the pandemic," says Forrest Morgeson, Assistant Professor of Marketing at Michigan State University and Director of Research Emeritus at the ACSI. "Concurrent with a wave of pent-up demand, the positive momentum is widespread as all hoteliers increase satisfaction year over year."
Hyatt helps guests rest easy
Overall guest satisfaction with hotels climbs 6% to an ACSI score of 75, with Hyatt skyrocketing 10% to tie Marriott (up 3%) atop the industry standings at 80. Both Hilton (up 4% to 79) and IHG (up 3% to 76) experience valuable gains.
Despite sitting at the bottom of the industry, the large group of small hotels sees the most significant bump, ascending 11% to a score of 72. Wyndham, up 4%, sits in a tie with the smaller hotels.
Despite facing ongoing challenges such as staffing shortages and supply chain issues, hotels show strong signs of improvement across multiple elements of the guest experience. Moreover, guests feel they are getting more value for their stays, and extras like hotel amenities (76) and food services (74) receive much higher ratings than in years past. In short, the ACSI results are cause for optimism for the hotel industry at large.
Alaska flies past the competition
It's no secret that the airlines had a turbulent holiday season. Widespread cancellations in December 2022 left thousands of passengers stranded, while staffing shortages and other operational issues impeded airlines' ability to get travelers to their intended destinations.
Customer satisfaction, unsurprisingly, suffered, plunged 8% in January 2023 compared to December 2022, reflecting passenger sentiment from year-end travel experiences. During that time, call center satisfaction received particularly low marks, along with in-flight service and cabin cleanliness.
And yet, the plummet seems to have been a brief blip in an otherwise positive year. Overall passenger satisfaction with the airline industry increased 1% year over year to an ACSI score of 76. The outlook for the coming months may be even rosier, as passenger satisfaction rebounded substantially in February, regaining about two-thirds of the ground lost from the end of 2022.
Alaska ranks best in customer satisfaction, taking over the top spot after soaring 8% to an ACSI score of 81. Meanwhile, Delta (down 1%) and JetBlue (down 4%) at 76 apiece are the only airlines to see satisfaction move in the wrong direction. Despite its struggles during the holidays, Southwest ties American for second place, both with a 1% improvement to 78.
Alamo still leads car rentals, but Avis is in hot pursuit
Satisfaction with the car rental industry increases 1% to an ACSI score of 76.
Alamo remains in the pole position, up 5% to 83, but Avis zooms into second place after surging 8% to 80. Enterprise takes third following a 4% improvement to 79, while Budget gets a 6% bump to 76.
Newcomer Sixt starts near the bottom of the industry with an ACSI score of 72, but outpaces the group of smaller car rental companies, which finishes last with a steady mark of 71.
While the industry's satisfaction surge was slight, car rental companies didn't exactly sit in neutral. They were able to restock their fleets after a big dip in 2020 and used their time wisely to up their game in everything from reservations technology to staffing. ACSI data show that customers were much happier with vehicle variety (78) and appearance (82), as well as pick-up (80) and drop-off (81) locations, compared to a year ago.
Expedia gives smaller online travel agencies some competition
User satisfaction with online travel agencies overall inches up 1% to an ACSI score of 76.
Despite improving 3% to 79, the group of smaller online travel sites no longer have sole possession of the top spot. Expedia rises 8% to earn a share of the lead. Expedia's Travelocity makes strides as well, improving 3% to 75.
Orbitz, in contrast, flounders, falling 7% into last place with an ACSI score of 71.
The ACSI Travel Study 2022-2023 on airlines, hotels, car rentals, and online travel agencies is based on interviews with 10,588 customers, chosen at random and contacted via email between April 2022 and March 2023. Download the study, and follow the ACSI on LinkedIn and Twitter at @theACSI.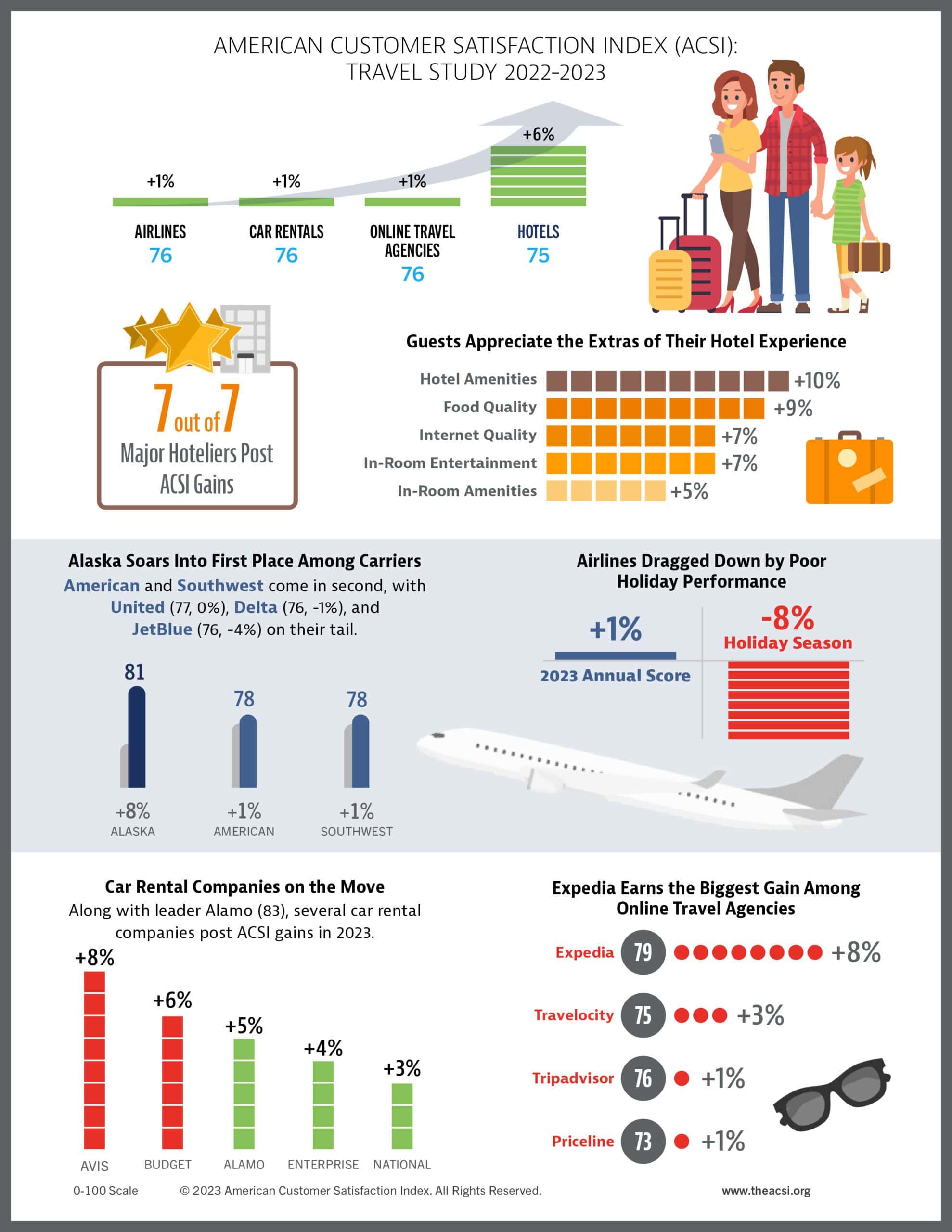 No advertising or other promotional use can be made of the data and information in this release without the express prior written consent of ACSI LLC. 
About the ACSI
The American Customer Satisfaction Index (ACSI®) has been a national economic indicator for over 25 years. It measures and analyzes customer satisfaction with more than 400 companies in 45 industries and 10 economic sectors, including various services of federal and local government agencies. Reported on a scale of 0 to 100, scores are based on data from interviews with roughly 500,000 customers annually. For more information, visit www.theacsi.org.
ACSI and its logo are Registered Marks of American Customer Satisfaction Index LLC.