May 16, 2023
Press Release Wireless Phone Service and Cell Phone Study 2022-2023
For more information contact:
Denise DiMeglio
[email protected]
610-228-2102
Apple Secures Top Spot in Cell Phone Market but Shares Lead Among 5G Phones With Samsung, ACSI Data Show
ANN ARBOR, Mich., (May 16, 2023) – Customer satisfaction with wireless service overall improves 1% to a score of 74 (out of 100), according to the American Customer Satisfaction Index (ACSI®) Wireless Phone Service and Cell Phone Study 2022-2023.
Mobile network operators (MNOs) and full-service mobile virtual network operators (MVNOs) increase 1% to 74 each, while value MVNOs expand their lead over the other wireless categories after surging 3% to an ACSI score of 77. Customer satisfaction with cell phones is unchanged at 79.
"This year, incremental customer satisfaction growth across three categories of wireless phone service may be a sign that things are moving in the right direction for the industry overall," says Forrest Morgeson, Assistant Professor of Marketing at Michigan State University and Director of Research Emeritus at the ACSI. "As the demand for wireless services continues to grow, the healthy uptake in 5G capabilities could lead to more satisfied customers in the future. On the manufacturer side, ACSI data show a clear consumer preference for devices with 5G capability across all companies."
Apple now leads all cell phone manufacturers and shares top spot among 5G phones with Samsung
Apple leads all cell phone manufacturers overall after improving 1% to an ACSI score of 81. Samsung, which shared the top spot a year ago, is stable at 80. Google inches forward 1% to 78, while Motorola slumps 3% to 75.
For the first time, ACSI compares cell phones with 5G capability to other models. Overall, 5G phones outpace non-5G phones by a score of 80 to 72.
Apple and Samsung lead all 5G cell phones at 81 apiece followed by Google (80) and Motorola (76). Among cell phones without 5G capability, Apple earns the highest mark with an ACSI score of 78. Samsung is next at 74, followed by Motorola at 72.
AT&T surges to the top spot in MNO category
AT&T regains first place in the MNO category after climbing 3% to an ACSI score of 75.
Both T-Mobile and Verizon remain unchanged at 74 and 73, respectively. In last place, U.S. Cellular dips 1% to 70.
While MNOs lead in market share, customers are more satisfied with value MVNOs. ACSI data show that customer perceptions of value — a key driver of satisfaction — for value MVNOs far exceed those of MNOs.
AT&T and Verizon share best in class for network quality
On top of measuring customer satisfaction for mobile network operators, ACSI presents two unique ratings of network quality: one for customer evaluations of call quality (clarity and strength) and call reliability (dropped calls), and the other for network coverage and data speed.
AT&T and Verizon top the field, each scoring 80 for call quality and reliability and network coverage and data speed. T-Mobile scores 78 in each category, while U.S. Cellular notches 74 for call quality and reliability and 73 for network coverage and data speed.
Cricket Wireless and Metro by T-Mobile top full-service MVNOs
Cricket Wireless (unchanged) and Metro by T-Mobile (up 3%) lead all full-service MVNOs at 76 apiece.
Spectrum Mobile, up 1% to 75, is next, ahead of Xfinity Mobile, which slips 3% to 74. Boost Mobile finishes last, unchanged at 71.
Consumer Cellular leads value MVNOs and all other carriers
Consumer Cellular tops value MVNOs — and all other carriers — after surging 5% to an ACSI score of 82.
Mint Mobile debuts in second with a score of 79, followed by Straight Talk Wireless, up 1% to 77. Google Fi scores 76 in its first year in the Index, tying Tracfone (unchanged). Walmart Family Mobile is steady at 74, while Simple Mobile is in last place after slumping 4% to an ACSI score of 70.
Customers with plans ranging from $26 to $50 and over $500 are most satisfied; the biggest spends are the most loyal
As part of the ACSI survey, respondents are asked how much they spend each month on their wireless phone service. This information, combined with customer satisfaction and customer loyalty data, shows which customer segments would have the greatest payoff if the customer experience were improved.
According to ACSI data, customers who spend $26 to $50 per month and those who spend more than $500 are the most satisfied with their wireless companies. The latter are the most loyal as well. Big spenders constitute the most valuable customer segment for wireless companies, and they clearly receive top-notch service in return.
The most dissatisfied customers spend between $251 and $500 per month, while the least loyal customers spend $151 to $250 per month.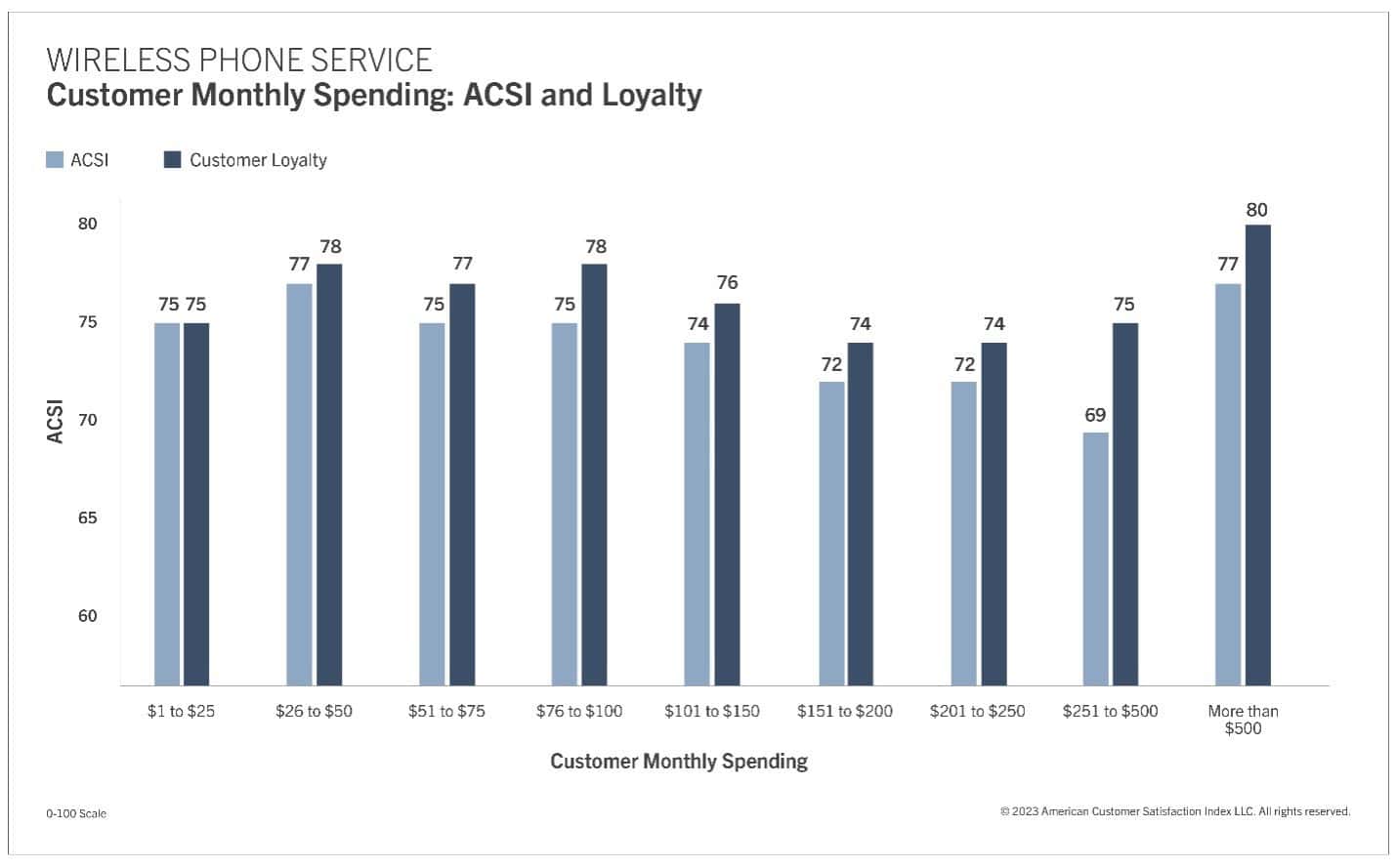 The ACSI Wireless Phone Service and Cell Phone Study 2022-2023 is based on interviews with 15,881 customers, chosen at random and contacted via email between April 2022 and March 2023. Download the study, and follow the ACSI on LinkedIn and Twitter at @theACSI.
No advertising or other promotional use can be made of the data and information in this release without the express prior written consent of ACSI LLC.
About the ACSI
The American Customer Satisfaction Index (ACSI®) has been a national economic indicator for 25 years. It measures and analyzes customer satisfaction with more than 400 companies in over 40 industries and 10 economic sectors, including various services of federal and local government agencies. Reported on a scale of 0 to 100, scores are based on data from interviews with roughly 500,000 customers annually. For more information, visit www.theacsi.org.
ACSI and its logo are Registered Marks of American Customer Satisfaction Index LLC.