August 8, 2023
Press Release National ACSI Q2 2023
For more information contact:
Denise DiMeglio
[email protected]
908-295-3843
The American Customer Satisfaction Index Experiences Largest Increase in 15 Years
Largest quarterly gain in National ACSI since 2008.
U.S. economy improves across the board, but customer satisfaction is still far below where it needs to be.
ANN ARBOR, Mich., (Aug. 8, 2023) — In the second quarter of 2023, customer satisfaction in the United States skyrockets, gaining 0.7% to a score of 74.1 (on a 0-100 scale), according to the American Customer Satisfaction Index (ACSI®). This is the largest one-quarter gain in satisfaction in nearly 15 years and follows three small consecutive upticks in satisfaction beginning in the second half of 2022.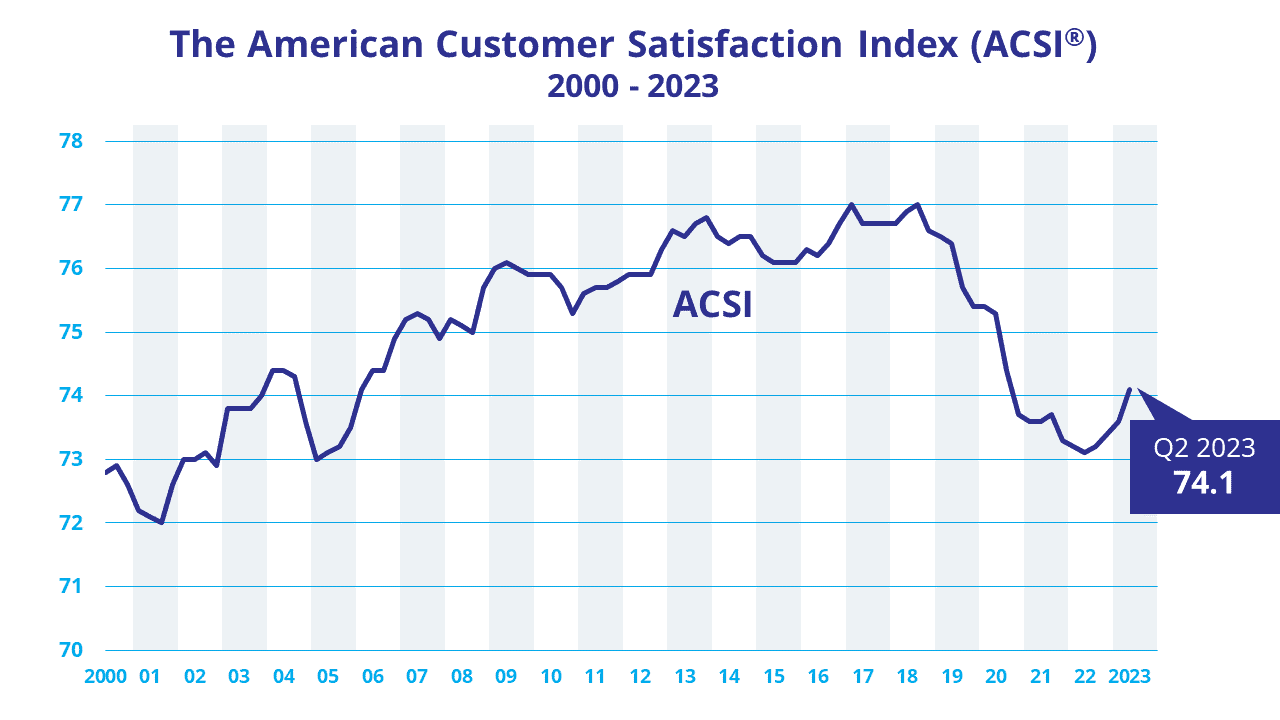 This recent upswing offers a glimmer of hope as it succeeds a tumultuous timeframe. Over a period of about four years, a total of 15 fiscal quarters, overall customer satisfaction as measured by the ACSI dropped almost every quarter. Consequently, the satisfaction of American consumers fell in Q2 2022 to its lowest level in nearly 20 years.
Today's strong positive movement in aggregate customer satisfaction is being driven by gains in several large consumer industries, including automobiles, household appliances, and personal computers. There have also been improvements in categories such as search engines and, to a lesser extent, social media platforms.
The jump in satisfaction is good news for consumers, as the ACSI is a strong predictor of economic performance. Accordingly, the 0.7% improvement in ACSI is accompanied by solid gross domestic product (GDP) growth of 2.4% and moderate consumer spending growth (1.6%) in the second quarter.
"While the large gain in ACSI coupled with slowing inflation bodes well for future growth in the U.S. economy, satisfaction still remains below pre-pandemic levels, as evidenced by the more moderate growth, just 1.6%, in consumer spending last quarter," said Claes Fornell, founder of the ACSI and the Distinguished Donald C. Cook Professor (emeritus) of Business Administration at the University of Michigan. "To drive more robust consumer spending growth, greater improvement in aggregate satisfaction is needed."
The national ACSI score (or ACSI composite) is updated each quarter based on annualized customer satisfaction scores for all sectors and industries. For more, follow the American Customer Satisfaction Index on LinkedIn and Twitter at @theACSI or visit www.theacsi.org.
No advertising or other promotional use can be made of the data and information in this release without the express prior written consent of ACSI LLC.
---
About the ACSI
The American Customer Satisfaction Index (ACSI®) has been a national economic indicator for 25 years. It measures and analyzes customer satisfaction with more than 400 companies in over 40 industries and 10 economic sectors, including various services of federal and local government agencies. Reported on a scale of 0 to 100, scores are based on data from interviews with roughly 500,000 customers annually. For more information, visit www.theacsi.org.
ACSI and its logo are Registered Marks of American Customer Satisfaction Index LLC.