November 2, 2023
Press Release Retail Holiday Preview 2023
For more information contact:
Denise DiMeglio
[email protected]
610-228-2102
Amazon and Chewy Headline Retailer Satisfaction Going Into the Holidays Amid Spending Priority Shifts, ACSI Data Show
ANN ARBOR, Mich., (November 2, 2023) — The holiday season is quickly approaching, and retailers better be on alert because most consumers share the same philosophy: This is not the year to put your holiday shopping off until the last minute.
With inflation continuing to threaten discretionary spending, 39% of shoppers said they will begin shopping earlier than usual this year. The obvious reason is that they can spread their shopping out to cover their holiday costs.
As consumers prepare to be more intentional with their purchases, some retailers, according to the American Customer Satisfaction Index's (ACSI®) Retail Holiday Preview, appear particularly well positioned to tackle this challenge.
"Customer satisfaction will be even more important as retailers compete for the more carefully allocated holiday purchases of price-sensitive consumers," said Forrest Morgeson, Associate Professor of Marketing at Michigan State University and Director of Research Emeritus at the ACSI. "Retailers that offer sales and promotions early this year may earn more dollars from consumers who are looking to spread out their holiday spending. Whichever brands can meet the needs of their customers in this uncertain economy will have superior customer satisfaction this holiday season."
Macy's and Costco lead general merchandise retailers, but they have a 'Target' on their backs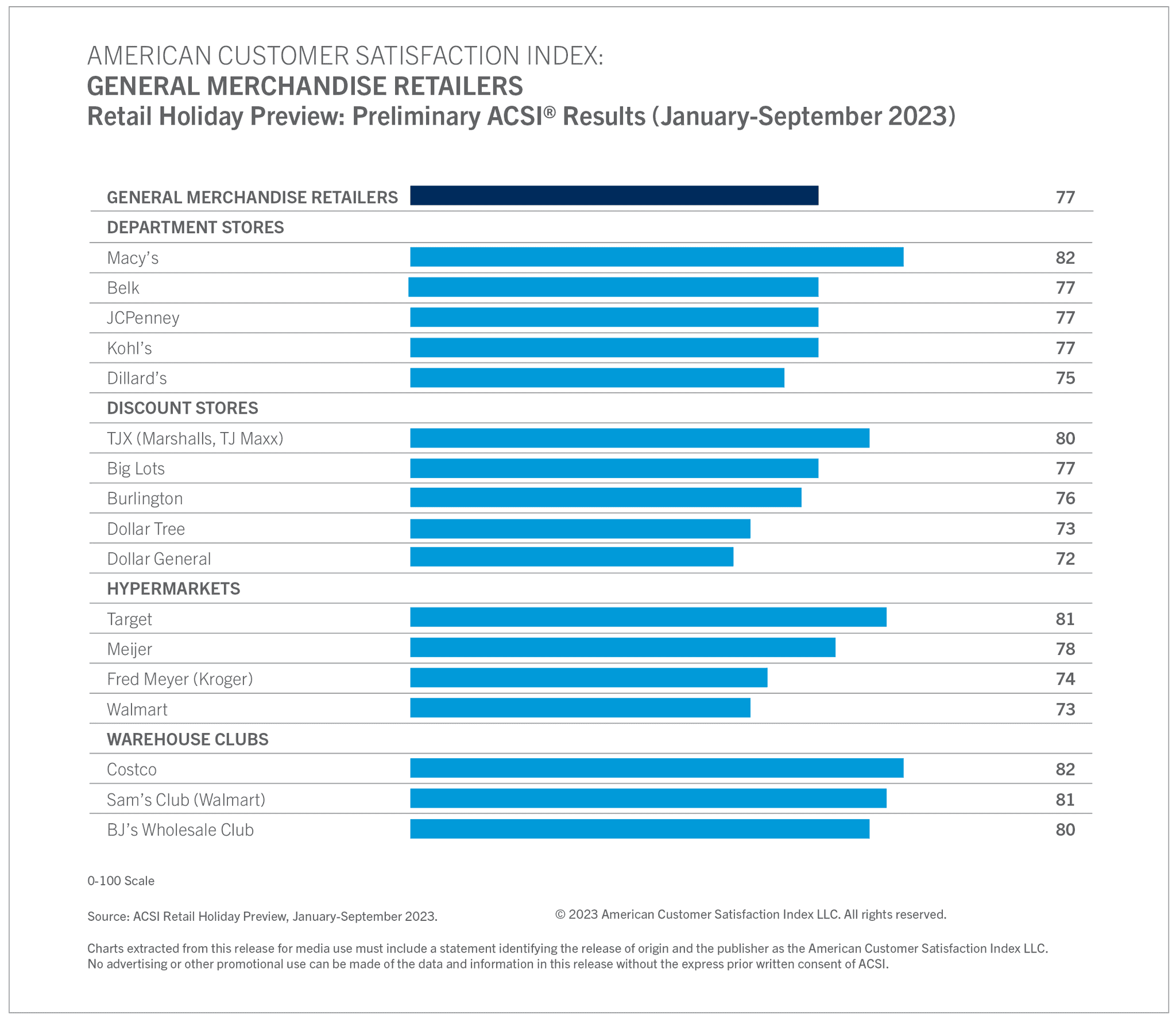 Year to date, customer satisfaction with general merchandise retailers scores 77 on ACSI's 100-point scale, outpacing last year's performance. Discounting appears to be driving that trend.
Top performers include:
Department stores: Macy's (82)
Discount stores: TJX (Marshalls, TJ Maxx) (80)
Hypermarkets: Target (81)
Warehouse clubs: Costco (82)
Macy's, which was forced to significantly slash the price of spring goods to account for consumer spending cuts, actually saw its customer satisfaction buoyed by these discounts. Compared to other general merchandise retailers, the company scored highest marks for sales and promotions.
Meanwhile, Target has benefited from consumers' deviation from discretionary shopping to spending more on essentials like personal care and household products. This strategy has also paid dividends for Costco, where membership has risen thanks in large part to cheap gas and strong grocery sales, strengthening the retailer's ACSI score.
TJX is offering more premium merchandise at a time when high-end retailers are struggling with inventory. Even with the state of the economy, customers are scooping up these goods left and right.
Amazon takes a bite out of Chewy for share of online retailer top spot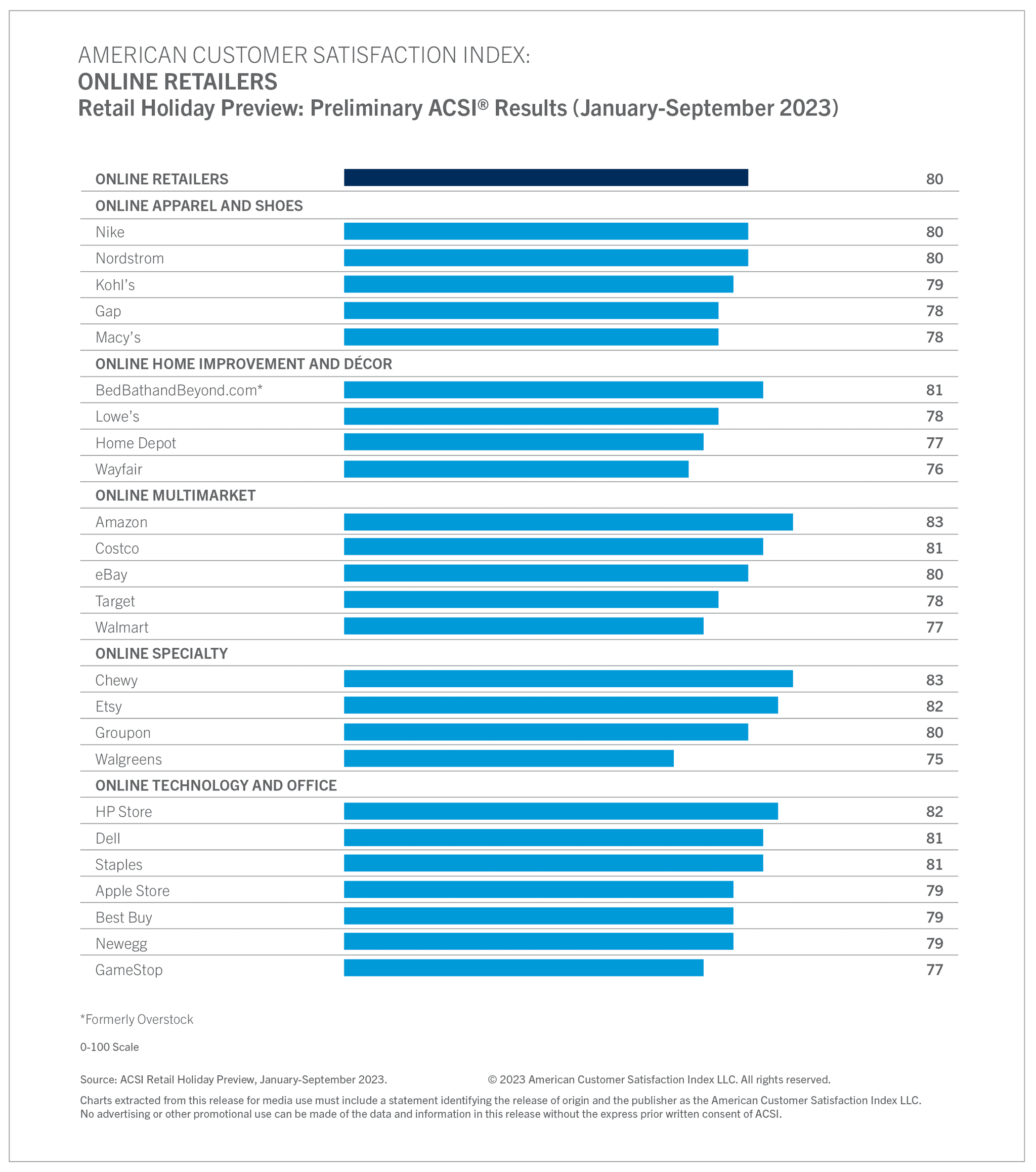 As online retailers prepare for a busy fourth quarter, which is expected to grow 4.8% year over year despite lingering inflation, the industry maintains its 2023 score of 80. The top online retailers include:
Apparel and shoes: Nike, Nordstrom (80)
Home improvement and décor: BedBathandBeyond.com (81)
Multimarket: Amazon (83)
Specialty: Chewy (83)
Technology and office: HP Store (82)
At an ACSI score of 83, Amazon and Chewy rank the highest for customer satisfaction among all retailers going into the holiday season.
Trailing the individual segment winners, several other online retailers score well in the 80s: HP Store and Etsy each pull in an 82; Dell, Staples, and Costco score 81; and eBay and Groupon enter the holidays with an ACSI score of 80.
There is a narrowing satisfaction gap at the brand level. In ACSI's 2023 retail report, the highest and lowest online retailers were separated by 16 points. That margin has been halved year to date, down to just 8 points.
Leadership logjam in the specialty retail industry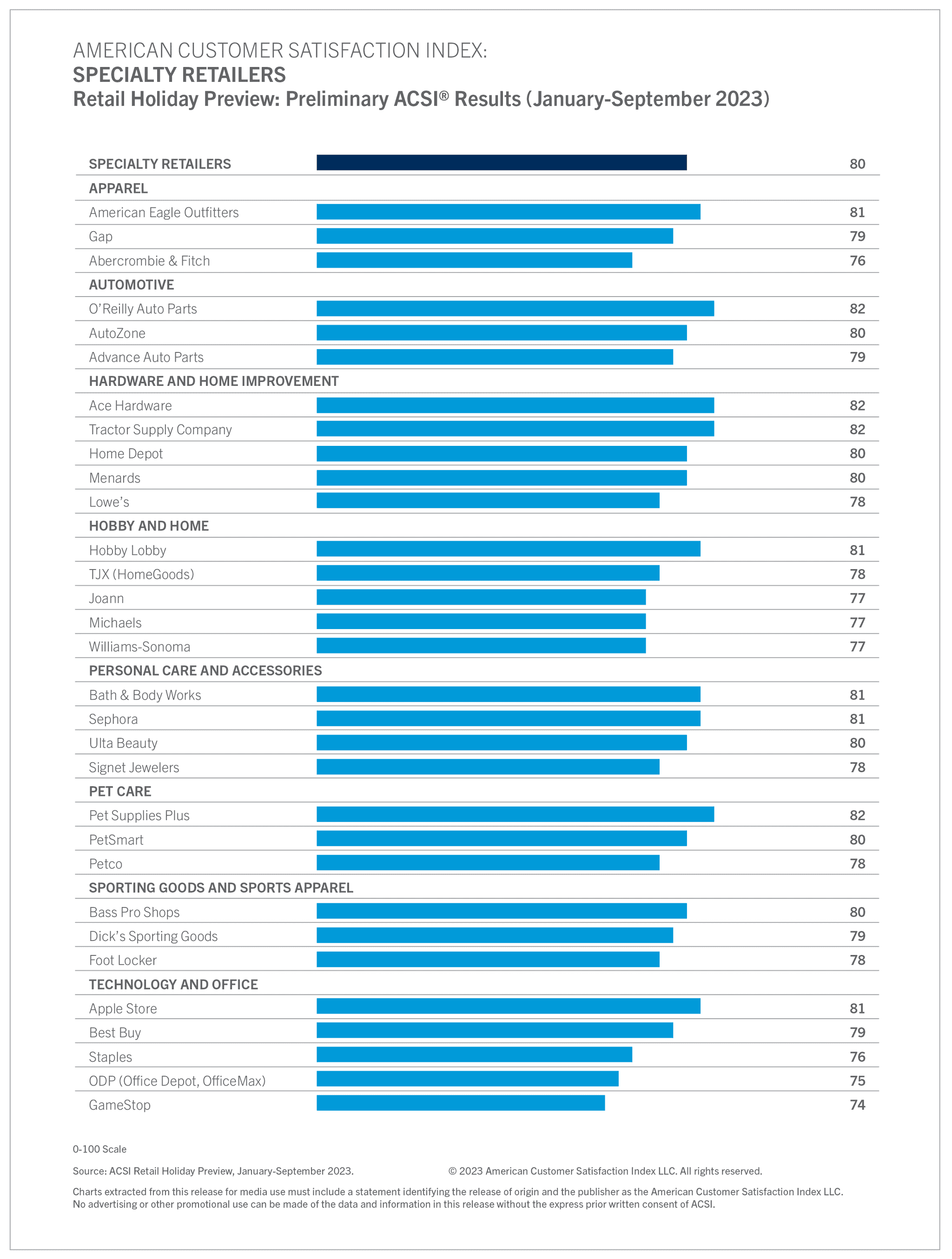 As of September, customer satisfaction with specialty retailers, specifically the brick-and-mortar shopping experience, stands at a score of 80. Segment winners include:
Apparel: American Eagle Outfitters (81)
Automotive: O'Reilly Auto Parts (82)
Hardware and home improvement: Ace Hardware, Tractor Supply Company (82)
Hobby and home: Hobby Lobby (81)
Personal care and accessories: Bath & Body Works, Sephora (81)
Pet care: Pet Supplies Plus (82)
Sporting goods and sports apparel: Bass Pro Shops (80)
Technology and office: Apple Store (81)
Segment co-leaders Tractor Supply Company (a newcomer to the ACSI) and Ace Hardware each score well on staff courtesy and helpfulness, which will be important for them to maintain as high interest rates threaten to delay homeowners from pursuing further home renovations.
Apple Store's reputation for providing great in-person customer experiences has buoyed its customer satisfaction so far this year. This, as well as shoppers' desire to get their hands on the new iPhone 15, should work in its favor this holiday season.
Despite decreasing since the last retail report, American Eagle Outfitters outpaces other specialty apparel stores. The retailer has managed inventory better, enabling it to be more responsive to style changes without relying on discounted prices to succeed.
While not leaders in their segments, a few other specialty retailers meet the industry average score of 80: AutoZone, Home Depot, Menards, Ulta Beauty, and PetSmart.
The American Customer Satisfaction Index Retail Holiday Preview is based on interviews with 22,541 customers from January 2023 to September 2023. Follow the ACSI on LinkedIn and Twitter at @theACSI.
No advertising or other promotional use can be made of the data and information in this release without the express prior written consent of ACSI LLC.
---
About the ACSI
The American Customer Satisfaction Index (ACSI®) has been a national economic indicator for 25 years. It measures and analyzes customer satisfaction with more than 400 companies in over 40 industries and 10 economic sectors, including various services of federal and local government agencies. Reported on a scale of 0 to 100, scores are based on data from interviews with roughly 500,000 customers annually. For more information, visit www.theacsi.org.
ACSI and its logo are Registered Marks of American Customer Satisfaction Index LLC.