November 14, 2023
Press Release Federal Government Report 2023
For more information contact:
Denise DiMeglio
[email protected]
610-228-2102
View Benchmark Report: Government
Citizen Satisfaction With Federal Government Services Jumps Again, ACSI® Data Show
ANN ARBOR, Mich., (Nov. 14, 2023) — Citizen satisfaction with U.S. federal government services continues to improve, advancing 2.9% to a score of 68.2 (out of 100), according to the American Customer Satisfaction Index (ACSI®) Federal Government Report 2023. This positive momentum builds upon an even larger gain last year, when citizen satisfaction jumped a whopping 4.6%.
"Collectively, these two large gains have returned citizen satisfaction to levels not seen since long before the onset of the COVID-19 pandemic," says Forrest Morgeson, Associate Professor of Marketing at Michigan State University and Director of Research Emeritus at the ACSI. "The data suggests that citizens are happier with their federal government interactions than at any time since 2018."
The improvement is driven by substantial gains across all four performance areas measured by the ACSI Federal Government Report — process, information, customer service, and website.
For the second straight year, citizens report healthy improvements in the efficiency and ease of government processes (up 6.1% to 70) and the ease of accessing and clarity of information (up 4.3% to 72). Meanwhile, after small dips on the courtesy and professionalism of customer service and perceptions of government website quality in 2022, both measures skyrocket. The former is up 8.3% to 78 in 2023 while the latter soars 13.0% to 78.
Citizen satisfaction across political parties
The ACSI Federal Government Report does not attempt to measure public opinion of or satisfaction with politics, politicians, or political parties. Nonetheless, factors like political party affiliation are likely to influence citizens' perceptions of the government services they receive, per ACSI data. These effects are likely growing stronger, as the current highly polarized political landscape has caused individuals to view all manner of issues through the lens of their political affiliations.
Satisfaction among Democrats (71) and the relatively small group of "Other Party" supporters (56) is unchanged year over year, but it improves among Republicans (up 1.5% to 67) and Independents (up 4.8% to 66). These gains are largely responsible for the overall improvement in citizen satisfaction with the federal government.
The ACSI Federal Government Report 2023 is based on interviews with 847 users, chosen at random and contacted via email throughout the year. Follow the ACSI on LinkedIn and Twitter at @theACSI.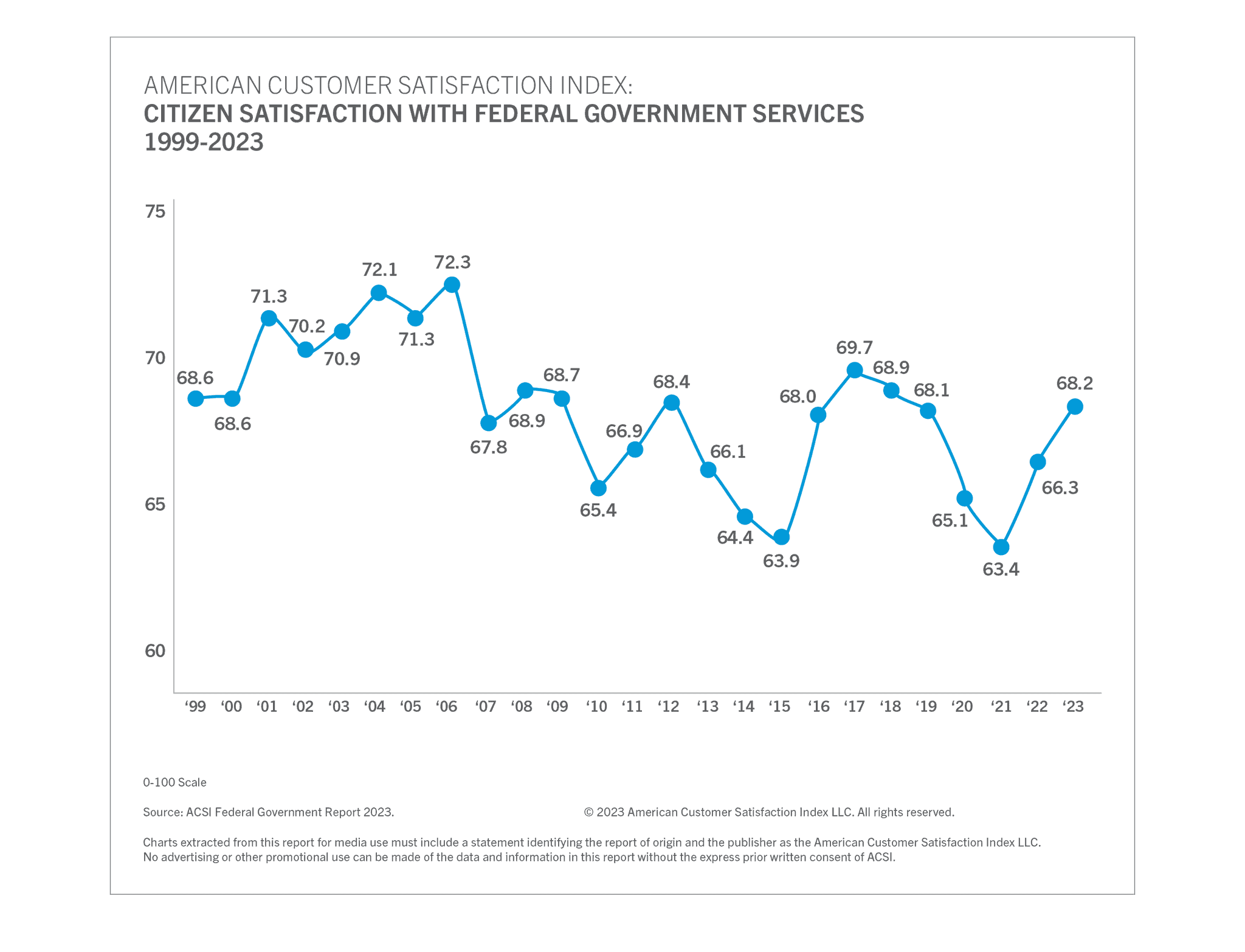 No advertising or other promotional use can be made of the data and information in this release without the express prior written consent of ACSI LLC. 
About the ACSI
The American Customer Satisfaction Index (ACSI®) has been a national economic indicator for over 25 years. It measures and analyzes customer satisfaction with more than 400 companies in over 40 industries and 10 economic sectors, including various services of federal and local government agencies. Reported on a scale of 0 to 100, scores are based on data from interviews with roughly 500,000 customers annually. For more information, visit www.theacsi.org.
ACSI and its logo are Registered Marks of American Customer Satisfaction Index LLC.