Credit Unions
2022
November 15, 2022
Press Release Finance Study 2021-2022
For more information contact:
Allie Carroll [email protected]
267-294-7735
Capital One and Fidelity Distinguish Themselves Among Financial Services, as Disappointment With Credit Unions Continues, ACSI Data Show
ANN ARBOR, Mich., (November 15, 2022) – Americans' frustration with credit unions persists. 
According to the American Customer Satisfaction Index (ACSI®) Finance Study 2021-2022 – which provides customer satisfaction benchmarks for banks, credit unions, financial advisors, and online investment – satisfaction with credit unions slumps 1% to an ACSI score of 75 (out of 100), falling behind banks overall (unchanged at 78) for the fourth straight year. 
"Credit unions continue a long, slow decline in member satisfaction that is now in its fifth consecutive year," says Forrest Morgeson, Assistant Professor of Marketing at Michigan State University and Director of Research Emeritus at the ACSI. "Rapid membership growth fueled by the pandemic and ongoing industry consolidation may be leaving customer service behind. And members appear to be noticing. Banks now excel in most areas of the customer experience, save the credit union industry's traditional area of strength: in-person service." 
Customer satisfaction with financial advisors moves in the right direction, up 1% to a score of 79, while the online investment category holds steady at 78. 
National and super regional institutions inch closer to regional and community banks 
Among banks, regional and community institutions remain on top with a steady mark of 80, but their lead shrinks. National banks climb 1% to an ACSI score of 77, followed by super regional banks, up 1% to 76. 
Citibank takes sole possession of first place among national banks after inching up 1% to 78. Bank of America rises 1% to 77 to meet Chase (unchanged) in second. Wells Fargo takes last place for the sixth consecutive year despite advancing 3% to 76. 
Capital One expands its lead among super regional banks, surging 4% to 81. PNC Bank is next, up 3% to 78, followed by U.S. Bank, which rises 3% to 77. Four super regional banks score 76: Citizens (up 3%), Fifth Third Bank (up 3%), Regions Bank (up 1%), and TD Bank (unchanged). 
Bank of the West debuts near the bottom of the category with an ACSI score of 74, same as KeyBank, which rises 1% year over year. Truist, formed by a 2019 merger of SunTrust Bank and BB&T, is the only bank to lose ground. Amid its branding conversion to Truist this year, the bank's satisfaction drops 3% to 73 – the lowest score among all banks. 
Fidelity tops online investment crowd; Vanguard tumbles into third 
Fidelity climbs 1% to the top of the online investment industry with an ACSI score of 80. Charles Schwab bounces back from last year's slip, improving 3% to 78. 
After leading last year, Vanguard falters 4% to 77, equaling Morgan Stanley's E*Trade, which rebounds 1% year over year. Customer satisfaction with the group of smaller online investment firms and Edward Jones both slides 1% to 76, just ahead of Robinhood, which surges 6% to 75. 
Merrill Edge (Bank of America) lands at the bottom of the category after stumbling 1% to a score of 74. 
Fidelity remains the face of financial advisors 
Fidelity takes the top financial advisor spot with a steady ACSI score of 81. Charles Schwab (unchanged) and Wells Fargo (up 1%) share second place at 80, followed by the group of smaller advisors (up 3%) and Morgan Stanley (up 1%) at 79 apiece. 
Merrill (Bank of America) is unchanged at 78, while the group of independent advisors and Raymond Jones both climb 1% to 77. UBS slips 1% to 76, ahead of last-place LPL Financial, which recedes 1% to 74. 
The ACSI Finance Study 2021-2022 is based on interviews with 13,546 customers, chosen at random and contacted via email between October 2021 and September 2022.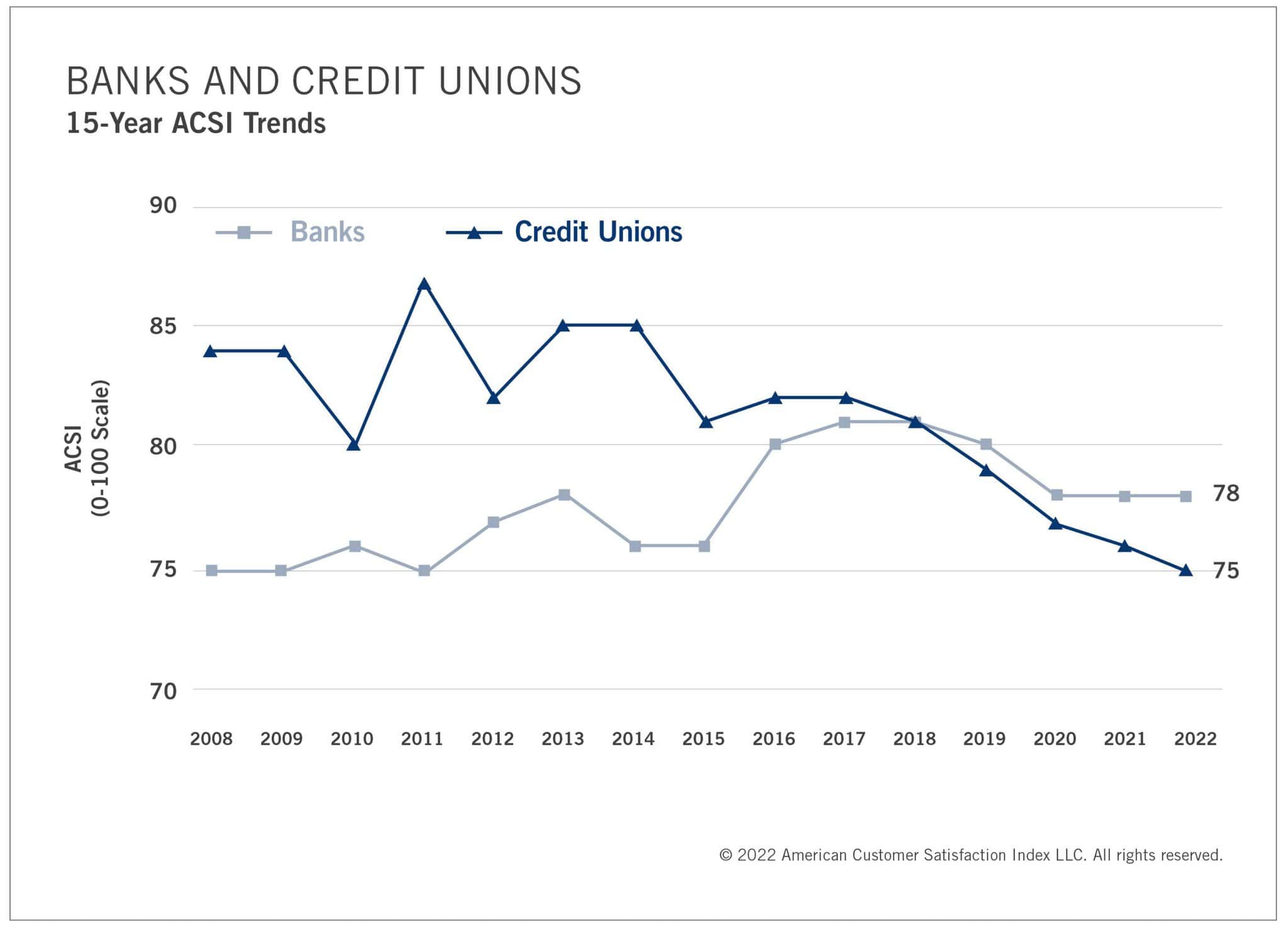 Follow the ACSI on LinkedIn and Twitter at @theACSI. 
No advertising or other promotional use can be made of the data and information in this release without the express prior written consent of ACSI LLC. 
About the ACSI 
The American Customer Satisfaction Index (ACSI®) has been a national economic indicator for 25 years. It measures and analyzes customer satisfaction with more than 400 companies in 47 industries and 10 economic sectors, including various services of federal and local government agencies. Reported on a scale of 0 to 100, scores are based on data from interviews with roughly 500,000 customers annually. For more information, visit www.theacsi.org. 
ACSI and its logo are Registered Marks of American Customer Satisfaction Index LLC.